Tuesday 12 June, 2018 |
---
Professional Guide: Reset iPhone X in 4 Steps
Restoring iPhone to the original factory setting is a simple process. It takes only five minutes to basically wipe any and all personal settings and data of your device. It is occasionally necessary when your device troubleshooting software errors. You can take many steps to fix the iPhone problem, even if the factory reset does not fix your problem. Is your iPhone frozen or unresponsive? In this article, VIP FIX will introduce how to reset iPhone X so that your iPhone can resume running without using any iPhone repair tools.
---


The simplest way to reset iPhone in factories is to use iCloud. Let's have a look how to restore iPhone X to factory setting:

1. Data Backup

Enter your iPhone settings menu - Settings > [your name] > iCloud, open the project you want to backup. We recommend that you choose to backup almost everything, especially your videos, photos, mail, and notes. Once you have selected what you want to back up (remember everything you have backed up will be lost forever after the reset), scroll down until you find a backup button with a green icon. Click on it and open the iCloud backup of the dial-up switch. Then, if you connect to Wi-Fi, you can back up now. Remember, it takes a few minutes.

Or you can rely on your computer a little bit. When you look at the abstract label of a given device in iTunes, connect your iPhone X to your computer with Apple USB data cable, then click the gray Backup button.

2. Enter Reset Menu

When you look at the main screen, click the main settings Icon, select "general" from the result menu, and click the reset button at the bottom of the result page.

3. Reset the iPhone

Click on the blue to erase all the contents and setting options near the top, and then use the red erase iPhone option to confirm your decision in the generated pop-up window.




4. Restore the iPhone

Once the reset process is completed, a process may take a few minutes to check to ensure that your phone has been restored to the original factory settings. If done correctly, you will appear again at the start of the IOS installation assistant.

You have to log in and set up your iPhone X from scratch, once it has factory reset. The hint will ask if you want to recover from the iCloud account, set up a fresh phone without any previous settings, or use iTunes and PC to put your old content on the phone again.

If you're interested in the iPhone repair information we introduced, please contact VIP FIX Shop Team to get more professional cell phone repair details on www.vipfixphone.com
---
---
---
---
How to deal locked Apple ID
Apple ID is the key to access Apple services, or the fingerprint recognize. But if you forgot it, or it is disabled for security reasons, what would you do next? During the following time, you can't sign into it, it is really troublesome, but the puzzled reason is that you do don't know what caused it. As a professional phone repair shop, we show sympathy for this situation, if you ever suffered this. Anyway, if you want to know why your Apple ID is locked and how to unlock it, you may can find an ideal in this page, here our VIP FIX team will guide you how to deal it.
---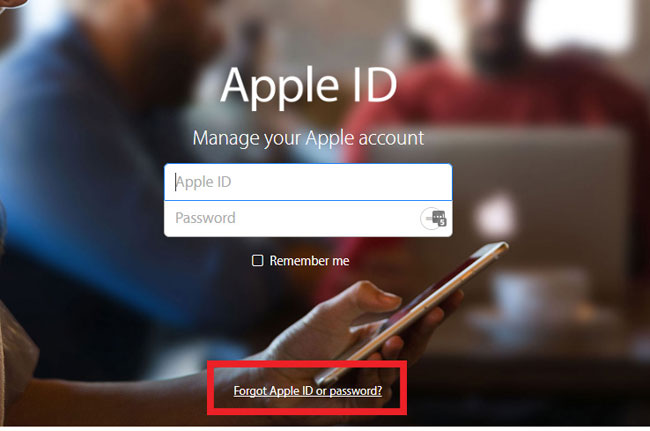 Firstly, we think it is necessary for us to know the reason why Apple ID can be locked or disabled, more know, more convenience for us to repair it. Generally speaking, if your or someone enters your password incorrectly too many times, or replying the wrong answers to security questions, Apple will think that your Apple ID is attacked and in danger, then it will lock your Apple ID soon.
More, if you haven't used the Apple ID for a long time, then when Apple changes the requirements for passwords or security questions, your Apple ID may be disabled until you log in and update your information.
Anyway, Apple ID plays an important role on your device security, greatly improve its security level. But if you forget the password, there is no easy way to solve it, only can unlock it forcefully by Pro 3000S.
No matter what happens on your device, the most important thing now for you is to find a right and efficient way to unlock it. So, just follow these steps to unlock your device.
1 Open Safari on any web browser on PC or Mac, then visit iforgot.apple.com.
2 Write down the details about your Apple ID according to the onscreen prompts. Then, submit it.
3 Then you will receive an email from Apple, check for the recent email from Apple. Find and click reset button, setting a new password and recornd a new fingerprint.
Then after you finished the settings, reboot your device, enter your iPhone by the new password or the new fingerprint. For this situation, we advise you had better record your passowrd on your PC, and update your fingerprint on time to avoid the disable because of the system updating.
Actually, the above-mentioned way is suitable for common people, sometimes second-shop will receive thousands of used iPhone, because the accessory inside of them can be used again, like phone NAND, phone motherboard, phone CPU etc. It is easy to get the motherboard and CPU, just need to disassemble it, it can be used as model or can be sold again, but they will remove all the data to ensure its security for theirs' customers.
But for the NAND, for the Data, if you haven't a professional phone repair tool, it is diffcult to remove it. Like we have mentioned, the Pro 3000S can be used, which can be suitable for 5S 6 6Plus Mini2 iPad Air iPad Air2, while most phone repair shop have accumlated some of them.
Back to the topic, the Pro 3000S is a phone NAND repair tool, which can write the new information to iphone / ipad, so obviously, the Appled ID can be easier dealt, but the precondition is that you need to know how to operate it. If you have built a phone repair business, we advise you can try to purchase one on any online B2C web, trust me, it will be useful for your repair work.
Lastly, Apple ID problem is common, at the same time, it also can be dealt easier, while the most key is that you need to remember the password. Of course, if you love DIY, maybe you can try to purchase a Pro 3000S, not only Apple ID, but also phone NAND, phone Wi-Fi, Phoone SN etc...
---
---
---
---
---
News for Monday 11 June, 2018
---
View all news for Monday 11 June, 2018 on one page
---
---
---
Recent News
---
---
---