Description
IP BOX 2nd generation High Speed Programmer for iPhone 5S 6 (32bit + 64bit) + iPhone 6S 7 E3NAND PCIE NAND

2nd generation IP BOX is the latest high speed programmer for IPHONE / IPAD NAND Flash EEPROM IC, Support iphone / ipad NAND Flash, Baseband / Logic EEPROM IC, EEPROM CHIP Read Write Erase Repair function, help phone repair engineer fix the brush and boot errors on iPhone / iPad hardwares, Backup, format, one-click read and write hard disk underlying data, support new blank hard disk, repair perfectly the 6/9/14 failure caused by iPhone / iPad NAND Flash.

IP BOX 2th generation iPhone chip programmer:
1. Support iPhone 4s-6P and iPad 2-mini 4 NAND Flash: 32bit + 64bit
iPhone 4s-6P series are NAND structure, which includes the underlying data read and write, hard disk partition read and write, user area read and write, formatting, full erasure, etc... used to solve iPhone/iPad memory expansion, flashing error reporting, and even engineering NAND Flash copy and other functions.

2. E3NAND- iPhone 5SE 6S 6SP 7 7P + iPad pro
6s-7P series NAND is E3NAND structure, and has a PCI-E x2 interface, commonly known as a PCI-E NAND Flash. Contains the underlying data read and write, NAND Flash partition, repair and brush machine error reporting! It can even solve the problem of NAND on the engineering board in seconds. (Whether the NAND of engineering board is 64G or 128G, the phone only shows 4G), this instrument can solve everything as easy as ABC, which is a true sense of programmer)

3. SPI FLASH
iPhone repair proverb: 8 foot chips, support a full range of SPI hard drives.

4. EEPROM
iPhone proverb: 4pin chip (EEPROM IC), widely used in mobile phones repair, same type as iPhone X display screen photosensitive, easy to read and write.

(1) Support iPad mini1/mini2/mini3/mini4/air/air2/2/3/4/5/6 + ipad pro, iPhone 4s/5/5c/5s/6/6p + 5SE 6S 6SP 7 7P
(2) Extract iPhone / iPad information, also support Change the iphoneipad information ( snwifi macbt maclocalmodem... )
(3) Can Load before NAND BOOT1 information (Partition Information), easy and fast operation.
(4) Can Load before NAND BOOT2 information (snwifi macbt maclocalmodem Information), easy and fast operation.
(5) Fast format NAND / re-boot the NAND.

NAND_Flash Apple NAND: Read, Write, Erase, Check function:
(1) ID Test: Reading NAND ID, Model, Size ...ect information.
(2) Read Test: print Internal partial data information
(3) Read All: Read the full font data, and also saved to the computer
(4) Erase Block: Erase the Part block data
(5) Erase ALL: Erase NAND.
(6) Write Block: Write the Part block data
(7) Write ALL: Write NAND Boot (Font) information.
(8) NAND Bus communication parameters
NAND Protocol mode and NAND bus clock
(9) Read Test, Erase Block, Write Block
NAND Page Start Address and NAND Chip Select
(10) Read All, Write All, All Erase. CE1CE2CE3CE4

software download link: https://mega.nz/#!5UVT0K4I!nbhXnoFFA8wjaAjHJbg3yu0L2U4k3rkiJ_P3Woj5sZM

IP-BOX 2th generation Package List:
1pc : IP-BOX 2th generation
1pc : LGA52+60 / LGA70 Test socket (fixture)
1pc : USB Cables
USB drive installation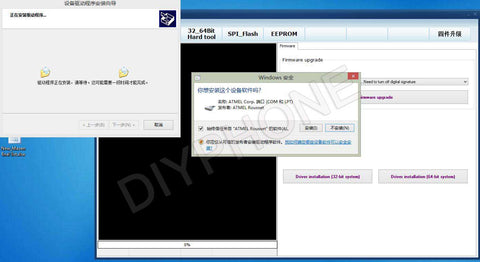 Payment & Security
Your payment information is processed securely. We do not store credit card details nor have access to your credit card information.