Description
UT658 Dual USB Tester Charger Mobile Power Data Cable Phone Charging Equipment Quality Tester Multimeter

Introduction:
1. The UT658 series second-generation USB tester is a new type of instrument for the quality inspection of chargers, mobile power supplies, data lines and other charging devices for 3C products
2. Dual output voltage, output current, output power, capacity, loop equivalent resistance, and USB data transmission line voltage of the 3C product charging device are all tested.
3. This product has high precision, reliability, stability, small size, convenient and flexible use, and can be widely used in factory verification, digital enthusiasts and engineers.

Specification:
Condition:100% Brand New
Item Type: USB Tester
Material: ABS
Color: White
Model: UT658 Dual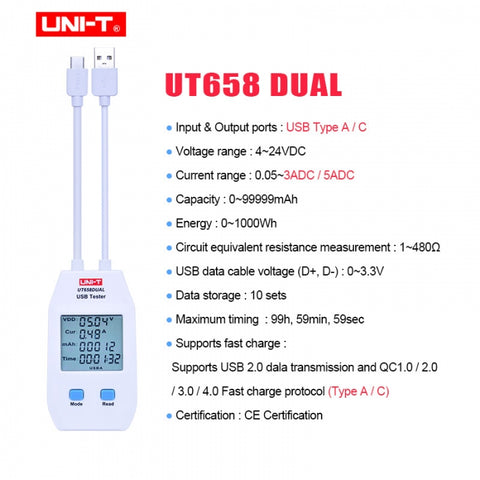 Features:
* Type-A interface
* The same screen shows voltage, current, power, capacity, etc.
* 10 sets of data storage
* Loop equivalent resistance measurement (1-480Ω)
* CE certification
* Support fast charge protocol (QC1.0/2.0/3.0Type-A)
* With a maximum 3A working current electronic load (LOAD version)
* Detects the most common wiring problems in standard and GFCI receptacles including open ground, reverse polarity, open hot, open neutral and hot/ground reversed
Package List:
1 x USB Tester
1 x Instruction Manual
Payment & Security
Your payment information is processed securely. We do not store credit card details nor have access to your credit card information.